The Feast of the Kings
The feast is an opportunity to share the cake of the kings which, in France, has kept the shape of a wheel but according to two recipes: the puff pastry cake in the North of France and the crown brioche in the South. In the old days, the cakes were different in each region. We can see in this tradition the permanence and the christianisation of a Roman feast in honour of Saturn for whom cakes were made with milk and honey.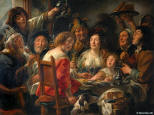 The King drinks; Jacob Jordaens;
1640, oil on canvas; Musée du Louvre, Paris
The cake is shared between the guests with still sometimes the poor's part; then it is distributed according to a precise ritual. A "fève" or bean allows to designate the "king" by lot who is then enthroned and crowned with the shout of "the king drinks", which gives a carnivalesque character to the feast.
The bean was the fruit of the vegetable carrying this name; it was replaced among the rich by a silver coin before a pastry cook used a bean in porcelain around 1870. Since then, small objects in ceramic, then in plastic have been made and, more recently, santons (figures of Christmas cribs), or even the heroes of comics…to the great joy of collectors.

Catalogue of beans, 1874 Fabophilie
In the old days, the "fève" designated the "king of the day" or "king of the bean" and the one who had received it had to offer a new pastry the following day. In this way, gourmands could regale themselves for several weeks or the whole of the month of January! Today, the sale of the kings' cake remains the best revenue of the year for pastry cooks.