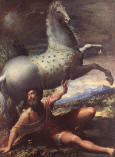 The Conversion of St Paul;
PARMIGIANINO; c. 1552; oil on canvas; Kunsthistorisches Museum, Vienna, Austria.
THE CONVERSION OF St PAUL
The Acts of the Apostles, chapter 9
Saul, who persecutes the Christians, asks to go to Damascus to arrest a few of them.
And as he journeyed, he came near Damascus: and suddenly there shined around him a light from heaven:
And he fell to the earth, and heard a voice saying to him : "Saul, Saul, why do you persecute me?" - And he said: "Who are you, Lord? " And the Lord said: "I am Jesus whom you persecute: it is hard for you to kick against the pricks" And the men who journeyed with him stood speechless, hearing a voice, but seeing no man.
And Saul arose from the earth; and when his eyes were opened, he saw no man: but they led him by the hand, and brought him into Damascus. And he was three days without sight, and neither ate nor drink.
God asks Ananius, a Christian from Damascus, to go to the house where Saul lives.
And Ananias went his way, and entered the house; and putting his hands on him said: "Brother Saul, the Lord Jesus, who appeared to you on the way as you came, has sent me, that you might receive your sight, and be filled with the Holy Ghost." And immediately there fell from his eyes as it had been scales: and he received his sight at once and arose, and was baptized ; And when he had received food, he was strengthened. (The Acts of the Apostles 9:3-18)
Comment

The narrative of a conversion which is as sudden as it is complete and which turns the Jewish persecutor Saul into Christian Paul who soon proclaims himself the "apostle" of the gentiles" (= pagans).