Mary Magdalene
Mary Magdalene is the name given to Mary of Magdala who was born in that town on the bank of the Lake of Galilee. This woman has followed Jesus who has delivered her from the "seven demons". It is Mary Magdalene who is at the foot of the cross and who first notices the resurrection of Jesus. With Mary, the mother of Jesus, she is then the most present woman in the Gospels.
But very soon Christians have purposely confused this woman with the sinner whose name is not revealed and who weeps at the feet of Jesus (See The Sinner at Simon's House) and with Mary of Bethany, Lazarus' sister (See The Raising of Lazarus).
By combining these elements, the tradition has made Mary Magdalene a sinner in love with Christ. She has become a celebrated saint; churches bearing her name have multiplied and many girls have borne her patronymic.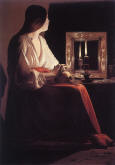 Mary Magdalene is the type of the repentant sinner whose erotic beauty and penitence have both been celebrated by artists; this has become a theme of meditation on the vanity of the world.
The Penitent Magdalene;
Georges de LA TOUR; 1638-43;
oil on canvas;
Metropolitan Museum of Art, New York.
In the 19th century, her name was also given to a delicacy made famous by Marcel Proust's novel, Remembrance of Things Past.

A madeleine is a small buttery sponge-cake in the shape of a scallop shell, the badge of the pilgrims to St James of Compostela. Until the French Revolution, madeleines were made and sold by nuns in Commercy (Lorraine, France) to support their convent dedicated to Mary Magdalene.